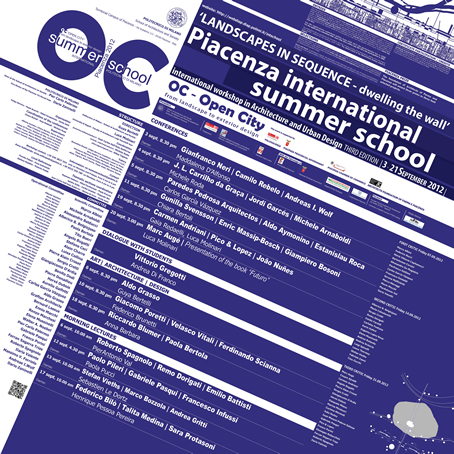 CONFERENCES
NIGHT CONFERENCES

Spokesmen:
Carmen Andriani, Michele Arnaboldi, Marc Augé, Aldo Aymonino, Emilio Battisti, Paola Bertola, Riccardo Blumer, Giampiero Bosoni, J.L. Carrilho da Graça, Remo Dorigati, Jordi Garcés, Aldo Grasso, Vittorio Gregotti, Enric Massip-Bosch, Gianfranco Neri, João Nuñes, Paredes Pedrosa Arquitectos, Ramón Pico y Javier López, Giacomo Poretti, Camilo Rebelo, Estanislau Roca, Ferdinando Scianna, Gunilla Svensson, Roberto Spagnolo, Velasco Vitali.
Chairmen:
Anna Barbara, Chiara Bertoli, Federico Brunetti, Maddalena D'Alfonso, Andrea Di Franco, Carlos García Vázquez, Luca Molinari, Gaia Redaelli, Michele Roda
Coordination of the conferences: Chiara Bertoli, Gaia Redaelli, Michele Roda
DIALOGUE WITH STUDENTS
One dialogue by the presence of Master of Architecture from Italy with the students:

Vittorio Gregotti

"PARALLEL EVENING"  ART-ARCHITECTURE | ARCHITECTURE-DESIGN
Spokesmen:
Aldo Grasso
Giacomo Poretti, Velasco Vitali, Ferdinando Scianna
Riccardo Blumer, Paola Bertola

MORNING LECTURES - Dialogue of Architecture
For each week it has programmed a series of architectural meeting aimed to the deepening og the sepcific theme of the Workshop
Federico Bilò, Marco Bozzola, Andrea Gritti, Francesco Infussi, Talita Medina, Gabriele Pasqui, Sara Protasoni, Paolo Pileri, Stefan Vieths
Chairmen:
Sebastien Le Dortz, Henrique Pessoa Pereira, Paola Pucci, PierAntonio Val
CRITICAL REVISIONS
The Summer School has foreseen three critical revisions, with the participation of an International Commission.
The work conducted in the design laboratory shall undergo progress reviews with the attendance of national and international key figures in architectural culture and a final results review conducted by an International Committee.
Revisioni Critiche*:
FIRST CRITIC Friday 07.09.2012
Marco Albini, Federico Bucci, Maria Vittoria Capitanucci, Bartolomeo Corsini, Alessandro De Magistris, Pierfranco Galliani, Carlos García Vázquez, Serena Maffioletti, Marco Mareggi, Mario Mocchi, Pier Antonio Val, Dario Vanetti.
SECOND CRITIC Friday 14.09.2012
Alberico B. Belgiojoso, Marta Calzolaretti, Sergio Crotti, Remo Dorigati, Emilio Faroldi, Carlotta Fontana, Karin Hofert, Eugenia Lopez Reus, Elena Mussinelli, Andrea Rolando, Andrea Sciascia, Luigi Spinelli, Laura Thermes, Stefan Vieths, Fabrizio Zanni, Cino Zucchi.
THIRD CRITIC Friday 21.09.2012
Marc Augé, Cesare Ajroldi, Carmen Andriani, Angelo Bugatti, Pierre Alain Croset, Sergio Crotti, Giangiacomo D'Ardia, Hervé Dubois, Pasquale Miano, Marina Montuori, Corinna Morandi, João Nuñes, Juan Manuel Palerm Salazar, Gabriele Pasqui, Pico & Lopez, Franco Purini, Giuseppe Rebecchini, Ferran Sagarra Trias, Roberto Spagnolo, Ilaria Valente.