SCIENTIFIC COMMITTEE:
Marco Albini
Carmen Andriani
Michele Arnaboldi
Marc Augé
Alessandro Balducci
Luca Basso Peressut
Alberico B. Belgiojoso
Paola Bertola
Tito Boeri
Stefano Ceri
Alain Charre
Luisa Collina
Pierre Alain Croset
Sergio Crotti
Giangiacomo D'Ardia
Benito Dodi
Pierre Donadieu
Hervé Dubois

Aurelio Galfetti
Aldo Grasso
Grafton Architects
Ennio Macchi
Renzo Marchesi
Raffaele Marone
Marina Montuori
Elena Mussinelli
Gianfranco Neri
Gabriele Pasqui
Franco Purini
Ferran Sagarra Trias
Roberto Spagnolo
Ilaria Valente
Massimo Venturi Ferriolo
Andreas I. Wolf
Dario Zaninelli
Zheng Shiling
REFERENCE COMMITTEE:
Antonella Contin
Ioanni Delsante
Hervé Dubois
Pasquale Miano

Andrea Sciascia
Stefano Stabilini
Marco Trisciuoglio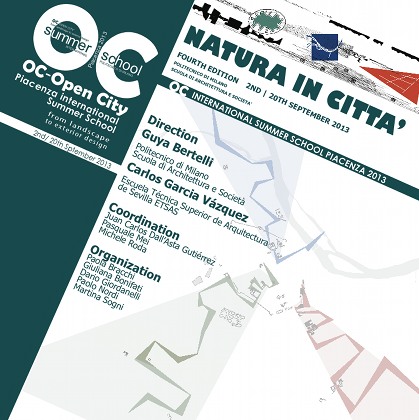 LAST DEADLINE 14 JUNE 2013

Reuse sites – Regenerate spaces
Recuperate potential

The fourth edition of Politecnico di Milano OC summer school focuses on the critical and problematic issue of the transformation of the contemporary city. Design will be focused on the urban spaces, the proposing forms and functions that renew a balance between artificial and natural. Piacenza however is characterized by a strong presence of low density, under-utilized ares, without a strong character or identity. Many of which are abandoned military areas, "in-between" areas without a present day use use or clearly defined future. By balancing "between growth and de-growth" as an approach to design, the students would identify the relation between the nature and the city referring to the "Common Ground" the theme proposed by David Chipperfield in the latest Venice Biennale.